Greetings Woodcarvers!!!
The year is rapidly coming to a close and before we know it, it will time for the Show. I hope everyone is working on their Show entries and planning a carving for the theme as well. I know there are many demands for our time as the holidays approach but please take time to register for the Show and pay your dues for the upcoming year. I know our club treasurer would appreciate as many as possible complete the registration form so he can assign a carver number. Early registration will make his job a lot easier as we approach the Show date.
Our Holiday Party is scheduled for December 4, 2018 at Carmel church. Please mark your calendars accordingly and remember guests are welcome. Anyone having any items to donate for the party, such as carvings, tools, wood and related materials, please contact me before November 25, 2018.
The club still has T-shirts, hats, polo shirts and club badges for sale. Please contact Joe Davis if you are interested in purchasing any club apparel.
Congratulations to our club members who recently participated in the Hickory, NC and the Ohio Artistry in Wood carving shows. The Charlotte Woodcarvers Club was well represented and won numerous ribbons. I am constantly amazed at the creativity and artistry our club members exhibit.
I hope you all have a safe and Happy Thanksgiving.
Your positive action with positive thinking results in success.
Shiv Shera
Al Wheeler
President, CWC
Charlotte Woodcarvers
Here we are again with another hurricane threatening to do more damage in the southeast. I hope everyone has fully recovered from Florence and now we have Michael to contend with.
All we can do is hope for the best.
Those that took Ron Dowdy's class last month had some extraordinary carvings to show the club members. The consensus of the club is to continue offering as many different carving classes as possible.
I am delighted to inform the club members the Caricature Carvers of America (CCA) will hold their 2020 meeting in conjunction with our annual woodcarving show. This is a tremendous opportunity and honor for our club to be able to attract such a talented group. We hope they will teach some seminars and maybe some carving classes before and after the show. Special thanks go out to Rod Gatlin and his committee for completing the proposal to CCA.
Greetings Fellow Woodcarvers
It looks like we might get some relief from the oppressive heat we have been having this summer.
Those that traveled to Wildacres, either for the week or one of the two sessions, had a great time and enjoyed the cooler temperatures. The instructors each bring their own unique style and creativity to the carving sessions. When we are not carving we enjoy the magnificent views, good food and fellowship with other carvers.
If you haven't been to Wildacres, I whole heartedly recommend planning a visit there soon.
Carving at Matthews Alive is always a treat for the Charlotte Woodcarvers. Although the weather was extremely hot outside we were able to showcase our carving skills and completed projects to the public while enjoying air conditioned comfort. Visitors and particularly the children, are always amazed at the quality and variety of wood carvings. This venue provides an excellent opportunity to promote the art of wood carving, enlist new members and inform the public about our upcoming show.
Greetings Charlotte Woodcarvers!
The hot August weather has driven most of us inside to work on our carvings. Our Show is 6 months away so I everyone has had a chance to come up with some artistic and creative carvings to enter. July ended with a group taking Michele Parsons pyrography class. Everyone who participated learned a lot and produced some remarkable pyrography projects.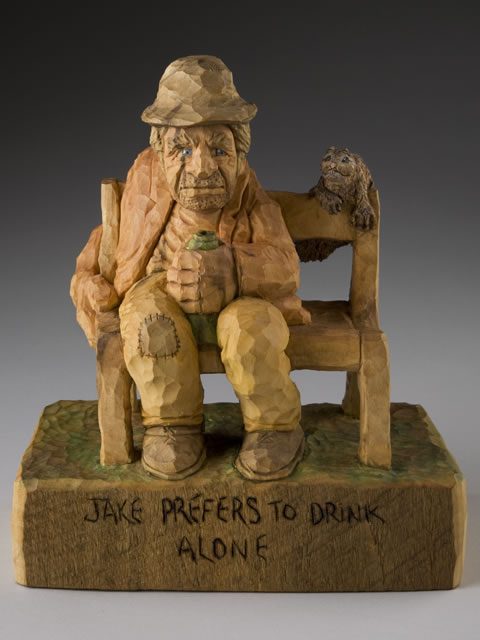 August we will have carvers traveling to Wildacres for carving classes with Peter Ortel and Mitch Cartledge. For those that have not been to Wildacres it is a beautiful location and promises a cooler environment. This is an opportunity to enjoy nature and beautiful mountain vistas as well as sharpen our carving skills while learning from talented instructors. It is not only a place to learn but also enjoy the fellowship of other carvers. Evenings we can relax with our friends and enjoy some "adult beverages" if we are of a mind to do so.
Greetings Fellow Woodcarvers
Happy (belated) 4th of July. I hope each of you had the opportunity to enjoy the holiday. The end of June wrapped up with the chip carving classes conducted by Bill Johnson. The carvers that took his class were delighted not only with the class itself but with the instructor and the results of their projects. The completed or nearly completed chip carvings available for viewing at the summer picnic were terrific.
The summer picnic was well attended where nearly 60 members and guests gathered for good food and good fellowship. Many thanks to those who donated items for the raffle and to those who helped with the preparation and clean-up. Special thanks to Bill and Judy Dominic for their efforts in making this activity a success.
Pyrography classes with Michele Parsons for beginner and advanced students will be July 19, 20 and 21. I know all those enrolled are looking forward, as I am, to seeing what projects she will have available for us. Our club is very fortunate to have such skilled artisans as Michele Parsons and Bill Johnson among its membership.